Waar blijft de kritiek van Ban Kimoon?
Gisteren werd een 4-jarig jongetje gedood door mortiergranaten uit Gaza.
Die granaten kwamen niet van een willekeurige plek in Gaza, maar vanuit een VN-school.
De scholen van de VN werden al eerder misbruikt; Namelijk in drie van die scholen werden raketten van Hamas gevonden.
Ban Kimoon veroordeelde dat wel, maar de raketten werden aan Hamas teruggegeven.
Wat hiervan de boodschap is laat zich makkelijk raden.
Israel schiet volgens oorlogsrecht terug op lanceerplaatsen van afgevuurde raketten en mortiergranaten en zo raakten de scholen betrokken.
Een aantal scholen werd beschadigd en er vielen ook slachtoffers doordat Palestijnse burgers toevlucht hadden gezocht in die scholen.
Deze vluchtplaatsen, als zodanig bekend bij Hamas, werden gewoon misbruikt door Hamas door daar vandaan raketten en/ of mortiergranaten af te schieten.
De wereld was te klein: Ban Kimoon werd bijna hysterisch van woede en vergat en passent dat Hamas deze scholen misbruikt en de burgers als schild in die scholen gebruikt.
Israel had een misdaad begaan en de rol van Hamas werd nergens genoemd.
Nu is er dan een jongetje gedood door een mortiergranaat vanuit een VN-school (Security sources later claimed that the mortar fire that killed Tregerman had been fired by militants from within an UNWRA school in the northern Gaza neighborhood of Saja'iyya.) en heeft u Ban Kimoon gehoord? Iemand van de VN gehoord over deze misdaad? Nergens lees je hier iets over in een Nederlandse krant.
Geen verontwaardigde mededeling op het journaal.
VN-scholen zijn dus alleen belangrijk als Israel ze raakt. Hamas kan er raketten opslaan en mortiergranaten afschieten: niets aan de hand.
Dat er burgers schuilen is nu even niet belangrijk.
Heet dat niet meten met twee maten of selectieve verontwaardiging?
MS
Commentaar svp naar waarnet.nl
==============================
Update:
IDF: Mortar that killed 4-year-old Daniel Tregerman not fired from UNRWA facility
http://www.ynetnews.com/articles/0,7340,L-4562322,00.html
Ynetnews
| | |
| --- | --- |
| Published: | 08.23.14, 07:29 |
The mortar that killed 4-year-old Daniel Tregerman was fired from a Palestinian Authority school that provides shelter for refugees in the Gaza Strip, and is close to an UNRWA facility, the IDF Spokesperson's Unit said.

Earlier Saturday, security officials stated that the mortar had been fired from within an UNRWA school in Gaza.
==============================
1 critically wounded after rocket hits street in Ashdod area

At least 130 rockets, mortars fired on Israel, striking an Ashdod synagogue, killing 4-year-old; Iron Dome downs rocket over Tel Aviv.
Ilana Curiel
Latest Update: 08.22.14, 22:39
Three were lightly wounded and a 25-year-old was in critical condition Friday night when a rocket from Gaza struck a road in the area of Ashdod. The attack came at the tail end of a day of heavy rocket fire from Gaza.

A 4-year-old child named Daniel Tregerman was killed in the evening after being critically wounded in the Sha'ar HaNegev Regional Council by mortar fire during a large barrage of rocket fire from Gaza that also reached central Israel.

Security sources later claimed that the mortar fire that killed Tregerman had been fired by militants from within an UNWRA school in the northern Gaza neighborhood of Saja'iyya.

Hamas claimed responsibility for the fire on central Israel, saying that they had aimed for Ben Gurion International Airport. Iron Dome intercepted one rocket over Tel Aviv during the barrage.

At least 130 rockets were fired at Israel on Friday in total, with one landing a direct hit on synagogue in Ashdod, lightly wounding two and putting one woman in moderate condtion. Ten were treated for anxiety on the scene.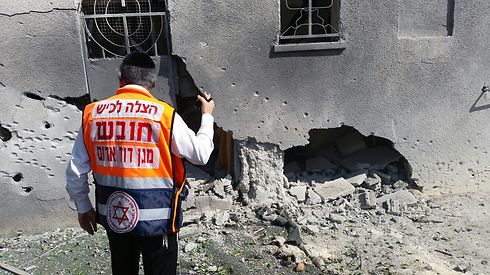 (Photo: Moshe Weizman)

Iron Dome intercepted a rocket over Be'er Sheva late Friday evening and another two projectiles fell in open areas during the same barrage. Earlier rockets fell near a preshcool in Be'er Sheva, wounding a man while another landed meters from another preschool in the south. The heavy-handed attacks on Friday came after a quiet night gave residents a much needed rest from renewed fighting which have seen a record number of rockets slam into Israel.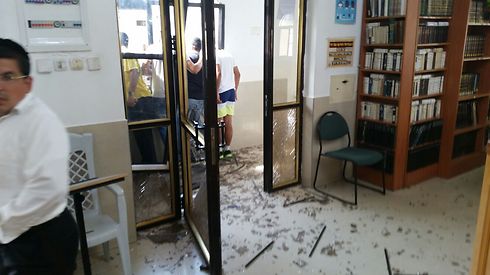 (Photo: Moshe Weizman)

In the late afternoon hours, an apartment in Sderot also suffered a direct hit by a rocket from Gaza. Reports from the scene indicated that nobody had been injured in the attack.

Meanwhile, a Gaza health official said four Palestinians were killed in an two seperate IAF airstrike as fighting continued for a third day after the collapse of Egyptian-led cease-fire talks.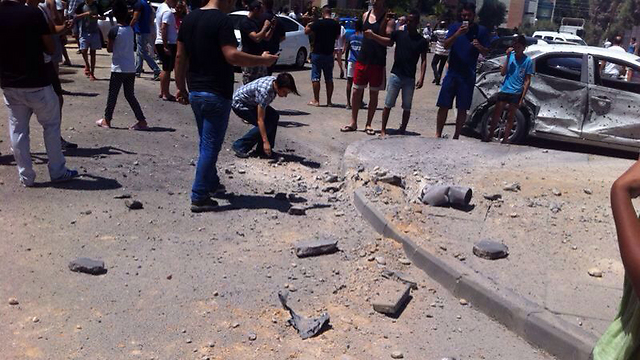 Be'er Sheva shortly after noon rocket attack (Photo: MDA paramedics)


A rocket was fired at Tel Aviv in the early afternoon, but fell in an open area, failing to cause damage. Hamas claimed responsibility for the attack.

A 52-year-old Israel man was moderately wounded from shrapnel in his arms after a rocket hit in Be'er Sheva noontime Friday; damage was also reported and he was taken to a local hospital.

As part of the salvo, three rockets were fired at the city, two were intercepted while a third fell in an open area.

Dani Schtrukerman, the paramedic who took care of the man, said "when we arrived at the scene we saw heavy damage to the surrounding buildings and cars and shattered glass was everywhere. Citizens took us to a 54-year-old man who had massive shrapnel wounds on his arms. He told us he was hiding between two buildings when the rocket het, sending shrapnel his way." The hospital said he was in light to moderate condition.

The salvo which wounded the man was followed by a rocket barrage at Sderot, three of which were intercepted by Iron Dome. Two more rockets fell in Eshkol an hour later, causing damage to a local house.

Earlier three rockets were intercepted and two fell outside communities in the Eshkol Regional Council and rockets were also intercepted over Ashkelon and Sderot.

Earlier, at least five rockets hit the south, mostly the Eshkol Regional Council, during the late morning hours, with one of the rockets landing 12 meters from a pre-school. Two rockets fired at Ashkelon were intercepted by Iron Dome and later two others fell in open areas near Netivot, with one also being intercepted above the town.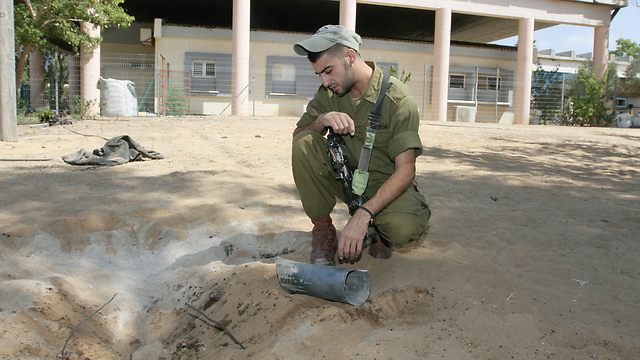 Rocket hits 12 meters from preschool (Photo: Ido Erez)



Sirens pierced the early morning silence, waking residents of the Eshkol Regional Council, which has suffered the majority of rocket hits in recent days, and informed them of incoming rocket fire shortly after dawn.

A rocket then exploded in an open area in Eshkol, and was followed by another rocket which fell outside one of the regional council's communities. Afterwards, a third rocket slammed into an open area in the Hof Ashkelon Regional Council, while Iron Dome intercepted the fourth shortly after.

According to the IDF, five more rockets were fired since midnight, though no sirens were reported until 6 am.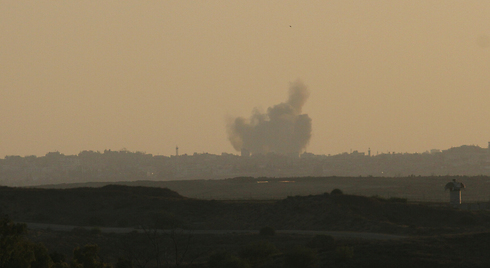 IDF hit over 20 targets in Gaza, killing four (Photo: Ido Erez)


The early morning rocket attacks followed violent days which saw ceasefire efforts to reach a long term ceasefire between Israel and Hamas collapse, amid renewed cross border rocket fire by Gaza militants.

The IDF said it carried out 20 airstrikes early on Friday, targeting rocket launchers and weapons sites, and Gaza health official, Ashraf al-Kidra, says two workers were killed at a livestock farm that was hit in the airstrike.

Two men aged 22 and 24 were killed in a strike on Nusseirat refugee camp early on Friday, emergency services said.

Two more were killed in an air raid near neighboring Deir al-Balah.
Earlier this week, Hamas rejected an Egyptian truce proposal under which Israel would gradually ease its blockade of Gaza, without giving specific commitments.

Hamas demands a lifting of the border closure, imposed by Israel and Egypt after the militant group's takeover of the coastal strip in 2007.

A quick resumption of indirect talks between Israel and Hamas in Cairo seems unlikely, particularly after Israel killed three top Hamas military leaders in an airstrike Thursday.

Responding to the killing of the three, senior Hamas political leader Ismail Haniyeh said late Thursday that his group would not budge from its demands.

"We will not accept anything less than an end to the (Israeli) aggression and an end to the blockade," Haniyeh said in a statement posted by the Hamas-affiliated Al Rai news service. "Anyone involved in cease-fire efforts must understand that our people will not accept anything less than this."

The IDF said aircraft hit more than 30 sites across Gaza and that militants fired more than 100 rockets and mortar bombs into Israel Thursday. A mortar bomb that landed near a kindergarten in a kibbutz badly wounding a man in his 30s, who sustained serious chest wounds when he was hit by shrapnel in the Eshkol-area kibbutz.

Meanwhile, Palestinian health officials said 31 Palestinians, including four children, three senior Hamas commanders and at least two other militants, were killed in air strikes Thursday.

Gaza militants unleashed ceaseless salvos on Israeli towns Thursday night. Shortly before 9:00 pm, air raid sirens blared in Modi'in near Jerusalem and Mateh Binyamin Regional Council in the West Bank. Iron Dome intercepted one rocket over Modi'in. After 9:30 pm, Code Red sirens sounded throughout the country's south, in Ashdod, Ashkelon, and the Hof Ashkelon Regional Council.

Earlier in the evening, around 7:30 pm, a number of sirens sounded in Be'er Sheva and other Negev communities. Iron Dome intercepted two rockets, and three others exploded in open areas. Damage was caused to a cowshed in the Yoav Regional Council.

Immediately after the Code Red sirens sounded in Be'er Sheva, the Magen David Adom call center received a report about a pedestrian who had been hit by a car while running to a protected space in Be'er Sheva. MDA paramedics evacuated the man, who suffered a head injury, to Soroka Medical Center in the city.



Matan Tzuri, Yoav Zitun, AP and Reuters contributed to this report



| | |
| --- | --- |
| First Published: | 08.22.14, 08:59 |